INTRODUCTION

This article describes the reasoning and components I picked to build my most recent Home Media Center PC. This will be useful to those of you who are interested in running a custom small footprint PC as a part of your entertainment center. Admittedly, there is a good number of stand-alone media players available in the market, such as the awesome hacker-friendly Fire TV, and so many people may not need to build a dedicated PC. However, having a real PC comes handy if you need to do certain things, though, for example:
If you want to run your own website or development server from home, which requires a PC up all the time
If you want to run a fast file server for media sharing, and by fast I mean 100 Mbytes/sec or faster. Of course, as an alternative, you could hook up your drives to a media player directly, but don't expect a lot of speed: those almost never have USB 3 ports, and the CPUs have a hard time keeping up with very fast data transfers. The speed you will get will be plenty sufficient for media playback but if you are transferring back and forth Terabytes worth of data you are out of luck. Another option you have is to hook up a drive to your router. Some modern routers do have USB 3 ports, but again due mostly to CPU limitations you are only going to get about 40 Mbytes/sec at best, which is going to slow you down when copying large amounts of data
If you want a machine to download files from various sources based on rules for example
If you need a machine to act as a streaming video server, decoding video in real-time, running the excellent AirVideo application, or any other similar one
If you need a computer to encode files via Handbrake to make them available on your iPhone or iPad
...
If any of those scenarios are interesting to you, read on and I will take you through the choice of components I am using.

Basic Assumptions

So we are all on the same page, these are the basic rules I used:
I wanted a box with a small footprint that could fit under most TV furniture, including all of Ikea's TV furniture
I wanted the box to be reasonably quiet
I wanted the PC to be fairly low power consumption since it's going to be running all the time
I wanted the PC to be reasonably fast, able to boot quickly, and powerful enough to encode movies via Handbrake quickly, or encode video for streaming streaming in real-time
I wanted the PC to have and HDMI port so it can be conneted directly to my Amplifier and/or TV. I did not need a very powerful video card it in because I will not be using it to play 3D games, plus those cards use up a lot of power
I wanted the PC to have fast USB 3 ports and Gigabit ethernet
I wanted the PC to be a reliable machine that does not get hot, and can run 24/7/365 without having giving me any trouble
I wanted the case to be black so it easily blends in with my other equipment and the furniture.
Lastly, I wanted the PC to be as reasonably priced as possible, I am not looking for a mochine that will break the bank
OK, ready to continue? Let's take a look at the components.
MY HTPC COMPONENTS
1. The Case & Power Supply
APEX MI-008 Black Steel Mini-Tower w/ 250W SATA Power Supply
After searching through a lot of cases, plain and fancy, cheap and expensive, I found this to be pretty close to the ideal case for me. It's a no frills case, small enough to fit in most TV furniture easily, it's black and unobtrusive. It has decent ventilation, enough room to fit up to 2 hard drives inside, a mini-ITX motherboard and CPU, plus it comes with a built-in 250W power supply which is nice. The PSU has enough power to run all your components, provided you don't use a high powered video card which is not the purpose of this machine. It does not consume too much energy which is ideal to keep the computer running 24/7 economically. The case also has USB 2 and audio front ports (don't worry about not being able to use USB3, those ports will be in the back with your motherboard). Lastly, the price is quite reasonable for getting both a well constructed case and a PSU with it.
Steel Mini-ITX Tower
USB 2.0 / Audio Front Ports
250W Power Supply
1 External 5.25" Drive Bays
1 Internal 3.5" Drive Bays
8.70" x 11.80" x 5.1"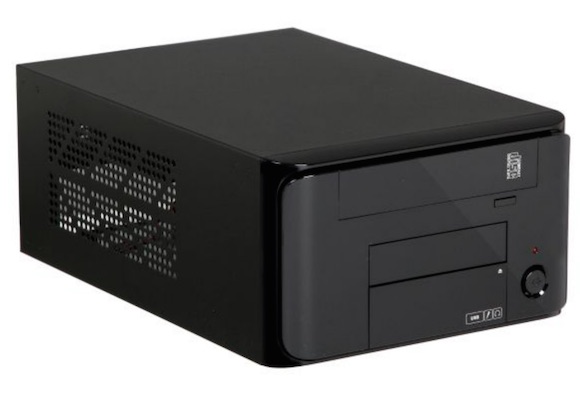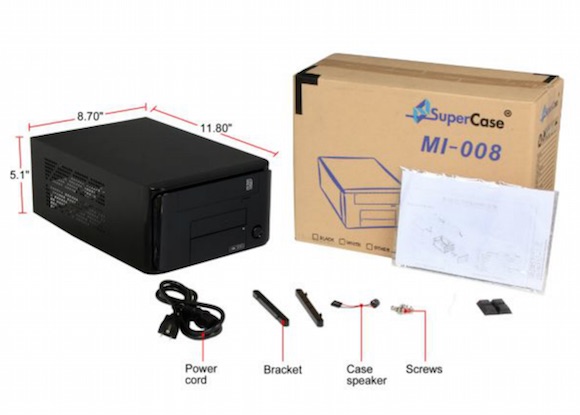 Price: About $43


2. The Motherboard
ASRock H81M-ITX LGA 1150 Intel Mini ITX Motherboard

The full name for this board is ASRock H81M-ITX LGA 1150 Intel H81 HDMI SATA 6Gb/s USB 3.0 Mini ITX Motherboard which denotes all its specs. This is small high quality mini-itx board with all the features most people need. That means super fast USB 3 ports, super fast 6Gb/s SATA, HDMI video out, and support for Intel LGA 1150 CPUs. The video support will be provided via our CPU, so no need to buy a separate discrete video card, that is not necessary for the type of computer we are trying to build. Memory-wise it will support up to 16 Gb of DDR3 which is easily plenty for most applications. Be sure to get the mini-itx version of the board, otherwise it won't fit in the case (they also sell the micro-atx version which is slightly larger and would require a different case). To round up the feature set this motherboard provides very flexible video out options (3 different ones: HDMI, DVI and VGA), Gigabit ethernet, and an eSATA port.
CPU: LGA1150
Memory: 2x DDR3-1600/ 1333/ 1066 DIMM Slots, Dual Channel, Non-ECC, Unbuffered, Max Capacity of 16GB
Slots: 1x PCI-Express 2.0 x16 Slot
SATA: 2x SATA3 Ports
Ports: 2x USB 3.0 Ports, 6x USB 2.0 Ports (4 rear, 2 via header), 1x PS/2 Mouse/Keyboard Port, 1x VGA Port, 1x DVI-D Port, 1x HDMI Port, 1x Optical S/PDIF Out, 1x eSATA Port, 1x RJ45 LAN Port, Audio I/O Jacks
Form Factor: Mini-ITX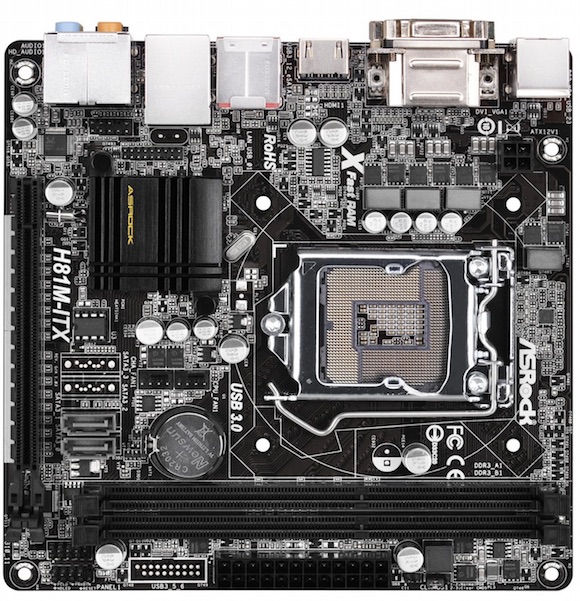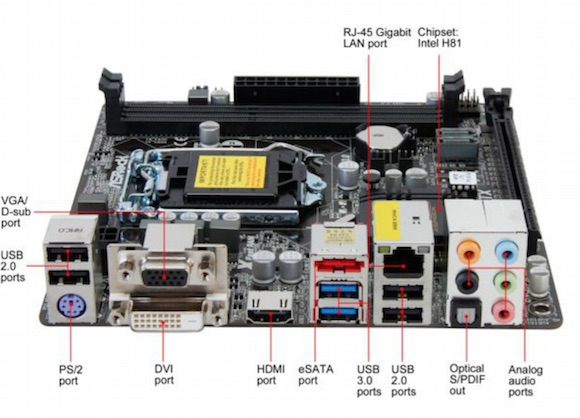 Price: $60-$75 (can fluctuate a little)


3. The CPU
Intel Core I3-4160 Processor (BX80646I34160)
The Intel Core I3-4160 Processor runs at 3.60 GHz, has 2 cores, fits the LGA1150 Socket, and is capable of Hyper-Threading. This wonderful CPU runs cool, is cheap, and performs like a champ. This processor will easily handle anything you can throw at it, including video playback (any format, any resolution, any file size and bitsize), on-the-fly streaming video encoding and playback, website hosting, file serving, and much more, even casual gaming. I have yet to find an area where this CPU doesn't surprise me and excel. This processor comes equipped with Intel HD graphics, so you do not need to buy a separate discrete video card for your computer. The built in graphics have an advanced video engine that delivers smooth, high-quality HD video playback, and basic 3D capabilities.
Tech Details

Core I3-4160 Processor 3.60GHz Haswell (Dual Core with Hyper-Threading)
Supported memory: DDR3-1333, DDR3-1600
Intel HD Graphics 4400, 3 MB Intel Smart Cache, 16 PCIe 3.0 Lanes
The other awesome advantage this CPU has is power consumption: it consumes about half the power at idle state that an i5 or i7 system will consume. This is one of the stated goals of our rig, since it will be running 24/7 we want to maintain power consumption as low as possible. The actual consumption is around 15W (vs typically 25-30W for an i5 or i7)
You will see all these debates out there about getting an i7 (much more expensive), believe me, you won't need it. Unless you are doing heavy duty full time video editing and re-compression, you do not need anything else. For the price, you can't beat it. Note that the processor includes a fan and heatsink, and pre-applied thermal paste. Installation is very easy.


Price: About $118



4. The Memory
Crucial Ballistix Sport 8GB Kit (4GBx2) DDR3 1600

No need to get fancy here, this is very good memory from a trusted brand. Comes as 2 sticks of DDR3 1600 (PC3-12800) 240-Pin UDIMM Memory. Fast, easy to install and reliable. It operates at speeds up to 1600 MT/s, has a CL9 latency with extended timings of 9-9-9-24, and it is non-ECC. These chips have very high rating and reviews everywhere (85%+ of users give them 5 stars on Amazon), you can't go wrong with them. And the price is right as well, good deal.

A question would be considering going with 16 Gb, that might be the right answer for some of you, though I found the vast majority of home users simply don't make full use of the extra memory, and so for most builds I am recommending you stick with 8 Gb. Should you want to upgrade in the future, you can, as the ASRock motherboard we picked will support 2x8Gb sticks for a total of 16 Gb of RAM.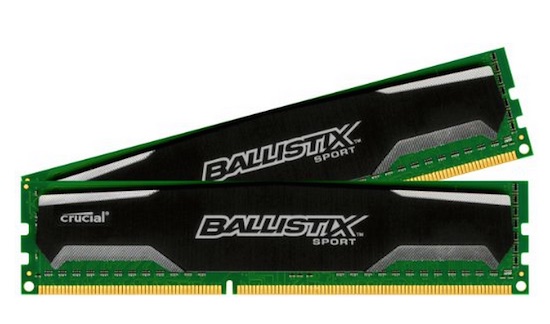 Price: $45



5. The Hard drive/storage units
Western Digital Caviar Green 3 TB

Western Digital hard drives are reasonably fast and reliable. The green series is meant for low power consumption environments, running quiet and cooler. I have owned dozens of these over the years and can vouch for them. The sweet spot in price is currently the 3 Tb unit, which will cost you about $31 per Tb. You can buy larger drives at a premium, but 3 Tb should give you quite a bit of room. If you need much more space, you should get an external unit with several bays (we will cover that on a future article).

Tech Specs

2 year limited warranty.
IntelliSeek - Calculates optimum seek speeds to lower power consumption, noise, and vibration.
WD Caviar Green hard drives reduce power consumption by up to 40% and offer best-in-class acoustics.
3 TB capacity holds up to 600,000 digital photos, 750,000 MP3 files, and 360 hours of HD video.
These are a great value per $ and will not disappoint you, they are the most reliable cheap drives on the market.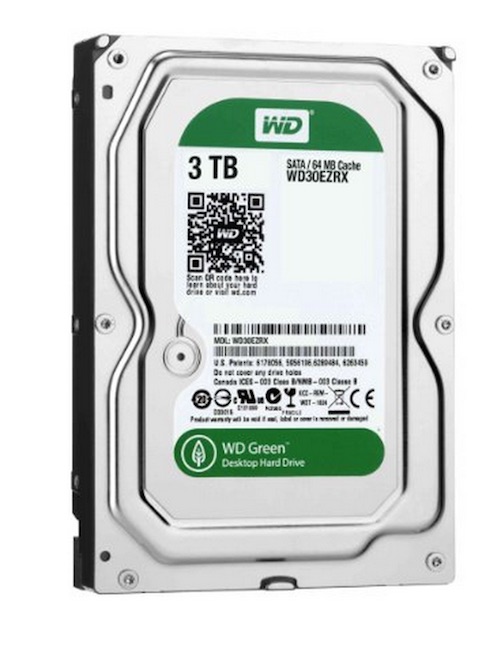 Now, I am not happy with a regular mechanical drive alone. The price of SSDs (solid state drives) is low enough that I must recommend you add an SSD to your build. This drive will host your OS and maybe some key programs while the Caviar Green 3 Tb will become your media drive. The main benefit of installing your SSD is that your computer will become faster, will boot in the blink of an eye, and will run operations that use disk cache much faster. This is immediately noticeable and well worth the few bucks to get the unit.
Samsung 850 EVO 120GB 2.5-Inch SATA III Internal SSD
You do not need a lot of space to host your main operating systems and key programs, and so 120 Gb is a good size. I would not recommend going any smaller than this, but also chances are you will not need to go any bigger either. Price per Gb is excellent, and the performance of this drive is very good, with read/write speeds easily in the 500 Mbytes/sec. The interface is SATA 6Gb/s.
Fast, reliable and cheap, this is an easy no-brainer upgrade in my book, you really cannot wrong with the latest Samsung model.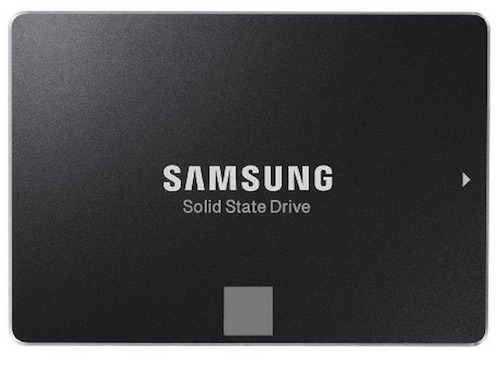 Price: $95 (WD Green) + $70 (SSD)




------------------------------------------------
Grand Total: About $430
------------------------------------------------

PERFORMANCE

This machine will serve you very well, and for the price it will be hard to beat the combination of power, smooth playback, storage, small size, energy consumption and flexibiliy. It can handle anything you throw at it, will feel very zippy. It's very quiet, and has low power consumption. Mine has been running Windows Server 2012 R2 steadily for about 15 months, acting as a (busy) file server, hosting my personal websites, running a MySQL database, compressing video via Handbrake, and a lot more, and I have not had a single issue. I almost treat it like an appliance, it's that reliable.

Enjoy!

END