SUMMARY

In this day and age most of us end up building and curating media libraries. Whether it's our favirote songs collection, our family pictures, or our home videos and movies we all have a big chunk of our hard drive, or external drive(s) devoted to media. Enter the role of a media player. If you are still using an Apple TV or are stuck watching media on your laptop, I have good news for you: for a very reasonable price you can buy very powerful yet simple media players that will unlock your songs, images and videos and let you watch them on a big screen tv in all the glory they were meant to be.

TOP 3 BEST MEDIA PLAYERS UNDER ~$100

The list:

1. Amazon FireTV Stick
The first unit I would recommend is the incredible Amazong FireTV stick. This tiny Android based device hooks directly into your TV's HDMI port and is a joy to use. You can use it out of the box to play Amazon media if you are a Prime subscriber. But the real power resides in the device's ability to load and run other Android software. From any computer you can easily connect to the FireTV Stick and load Kodi, the most powerful open source media player in the planet. Kodi is the rebraded version of what used to be called XBMC - the preeminent media player experts have used for years. Kodi is available across almost any platform you can think of. The version you will want to download is the most current Android version available. Within minutes you can get Kodi up and running on a FireTV stick, without removing any of the default Amazon software thus preserving all of the original unit capabilities. Installing Kodi is really a risk-free maneuver.

The FireTV stick has wireless capabilities and in my experience does an excellent job at creating sustainable high speed connections to routers. You want to make sure you have an n network setup, so your FireTV can connect to it. Anything lesser does not work well when you try to play 1080p movies. From Kodi's interface you will be able to navigate to any of your local network's Samba or NFS shares and create a library and play your media. Media playback is very smooth and fully featured - Kodi has basically been around for over a decade, and so it's a very polished product, and it will basically play pretty much almost any format know to men. It can download artwork, subtitles and much more. The one networking issues I have experienced, and it happened very infrequently, was that occassionally the FireTV stick would connect to my router on the wrong band - a g band for example instead of n. This resulted in subpart playback, skipping or stuttering. Took me a bit to figure out this is what was happening, but when I realized the solution was simple: rebooting the stick solved it every time, as when it came back online a second time it always picked the correct wireless band. This was happening on a Netgear router, a 6300 v2, and once I upgraded the router firmware to the more recent one a few months back, it never happened again, so it was the routers fault and not the stick.

It is important to note as well that the FireTV stick can be powered up from your TV's USB port. This is slick and super conveninent, no messy wires or power adapter dangling. When you connect it to the USB port for the first time the unit may complain that it doesn't get enough power to run all the features, but in my experience despite the warning everything worked 100% perfectly and I have never had a problem. At this price you can consider deploying multiple units and creating "slices" of your content. For example, one thing I did, was to create a slice of only kids movies so that my daughters can watch in a perfectly curated environment. Works very well.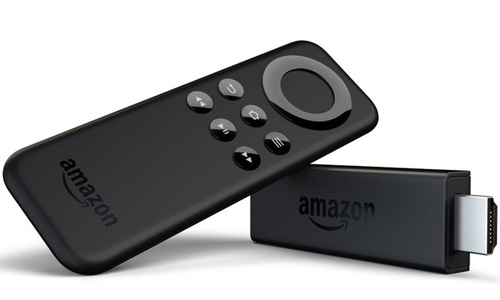 FireTV Stick
Price: typically $39


2. Amazon FireTV
This is basically a more powerful version of the FireTV stick I described above. It can do exactly the same, plus more. It has more ports, as you can see on the picture below, as well as a quad-core CPU (vs. a dual core on the FireTV stick) and more memory which basically means it can run more complex software from the Amazon store (typically 3d games) better - should you decide to purchase any of their apps. What it wil still do, and do it excellently, is being a powerful media player once you install the Kodi Android software. Thanks to its USB ports, you will have the option to attach a keyboard and external hard drives, although I have never had the need myself.
If you prefer to attach a USB drive directly vs. using networked storage via NFS or samba, you will need to root the Fire TV first. Rooting is required in order to use the USB ports on the FireTV.
Of note also, both the FireTV and FireTV Stick come with a nice little remote that works really well. The remote works via bluetooth, and so if you itend to run Kodi and control it from an all-in-one remote, like an Harmony remote, which is what I do. For most people the Harmony 650 model will do just fine, thought they make many other more advanced ones. you will need a flirc (something that connects to the FireTV USB port and converts your IR signal into something the FireTV can understand). The flirc will come with software for your computer that will help you configure it, it's not difficult.
Here is a picture of a FireTV compared to an AppleTV so you can see the ports and size. The real difference is inside, the FireTV runs circles around the AppleTV hardware wise, it's many times more powerful. And since Amazon wants to get you into their ecosystem they basically sell you their unit at cost which is a huge bargain. Below a sample picture of the Kodi interface.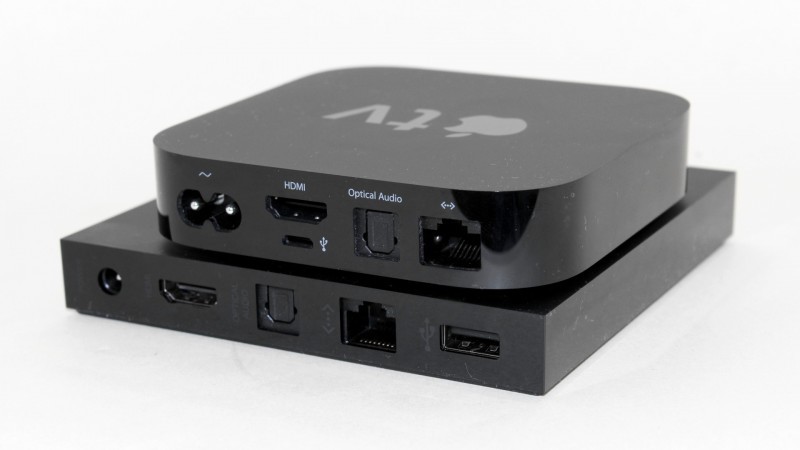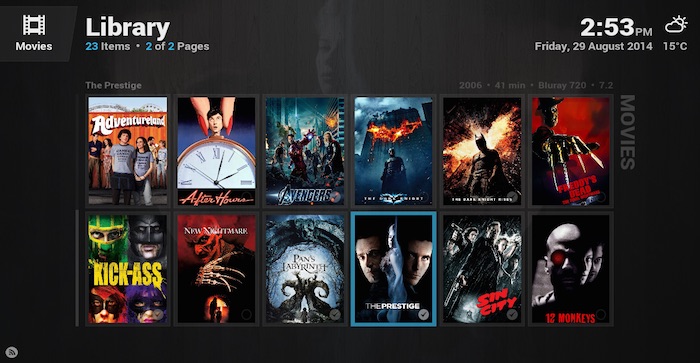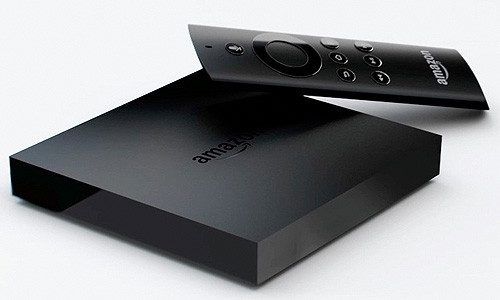 FireTV
Price: About $99 on Amazon


3. Western Digital Media Player Live
This player is reasonably priced and one point it represented the best compact choice in the market. Nowadays, however, it falls short due to different problems with its networking code.
The unit has been around with little change for several years. Its major strenght is the ability to play every format I have ever attempted, including maybe one two files that Kodi chocked on. The unit UI is a little outdated but works well, and it was my very own primary media player for at least 2-3 years.
Networking is the unit's weakness, the WDTV networking code has been buggy from day one. That was OK as an enthusiast machine years back, but it's not acceptable anymore. If you have a network at home and you play back media from shares you will eventually become frustrated with the WDTV. Especially if you try to use its Library functionality where it maps different folders across your network as a unified library. It works, but the WDTV tends to "forget" about the shares periodically and it can't recover right away. Recovering requires a convoluted process of clearing all the existing shares, then clearing the credentials, and starting over - and this process can take 15 minutes every time. I experienced many dozens of times. Users have reported it to WD but they have not cared to resolve it (for years!)
Another networking issue the unit suffers from is the performance of its NIC. On paper, suposedly, it has a gigabit interface. However, in practice and through many tests it's easy to establish the max speed you get is about 12-14 Mbytes/sec, closer to 100 Mbps and a far cry from the advertised 1 Gbps. The reason for this is because the CPU on the WDTV is not powerful enough to push the data faster, even though the network interface is technically capable of it. This, again, was totally fine 3 years ago, but it's sort of unacceptable that WD kept repackaging the device and reselling it withouth upgrading its hardware.
If you attach USB drives to the unit, it will work well and you will experienced little trouble. It's very robust and reliable. It does have any USB 3 ports, but it's OK, in my experienced 1080p video plays just fine over USB 2 ports.
All in all, this is venerable unit that used to be the king of the hill, but due to Wester Digitial's lack of investment has become less interesting as the years passed and other competitors cropped up. It will still be a decent player if you buy it, as long as you are willing to put up with slow UI when browsing larger collections, and plenty of networking bugs (I recommend USB only unless you are an expert tech user)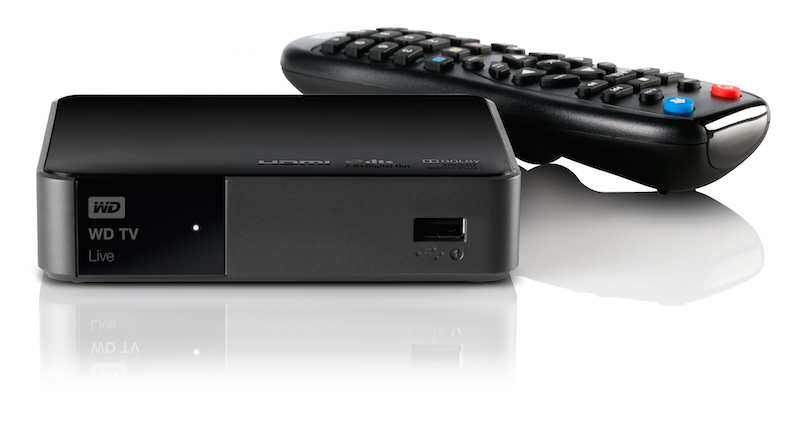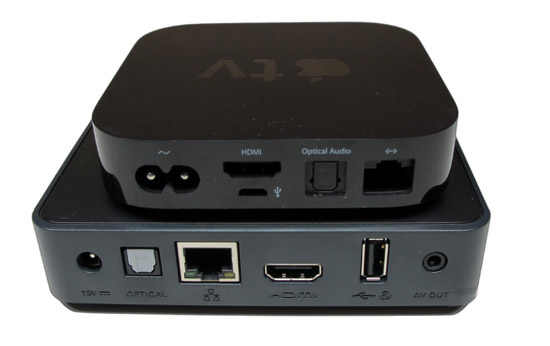 Wester Digital WDTV Live Media Player
Price: About $84 on Amazon