SUMMARY

Wireless routers are an interesting animal. They come in all shapes, colors and sizes. Some have big protruding antennas while others have slim internal ones, some look like an big ugly alien space ship and others are small and elegant. The common thread I found over the years is that none of these things seem to matter when it comes to their performance. After a certain level, the fancy antennas, the faster dual-core CPUs, more memory and more features are not a guarantee of stability and real world solid performance. Wifi routes started to plateau in terms of real-world perfomance for most environments with the AC1750 and AC1900 standards. Newer standards, like AC3200 and AC5300 are more like marketing ploys, manufacturers feel pressured to release newer models every year and many of them offer just small tweaks and impressive-sounding updates but no real improvement, sometimes they even get worse over previous models. That's why my top 5 list, which is backed by dozens real world performance tests from every corner of my house, does not contain necessarily the newest routers but rather the most solid and stable ones which in some cases are 2-3 years old. These routers will save you hundreds of dollars vs. the new fancy models, and give you the same or better performance.

OK, now that we're on the same page, let's move on to the list. These units have been tested in my environment, no less than 20 times each, for each frequency band (2.4 GHz and 5 Ghz) with no less than 5 clients attached - you would not believe how many things attach to your home wifi in the real world: your phone, your wife's phone, all your iPads, iPods, Amazong FireTVs, AppleTVs, Sonos, printers, ... My home Internet connection is great for testing because it goes all the way up to 300 Mbps. In fact, if you wait late enough at night, TWC is overdelivering in my case - in Manhattan - and their speed easily goes all the way up to 350 Mbps and I get every Mbps of it with several of the routers below. BTW, not to get off topic, but if you search online many people will tell you that you should not expect to get that kind of speed wirelessly. That is B.S., you should fully expect and get your maximum speed if you setup your environment right: your router in a clear elevated spot, antennas well-placed, and an AC client and the right type of router. When I hear people have 100 Mbps but only get 20 Mbps wirelessly, I think that is a shame. With the right setup and a solid router you can get every bit of your speed. Of course goes without saying, that I mean this within reason. Don't expect to be 3 stories away and in the other corner of the house and get the full speed either without some assistance from a wired gigabig connection and an access point nearby. As a rule of thumb, in my experience, I think you should expect to get the full speed (as if wired) up to 25 feet way with 1-2 walls in between. In short, in most cases you can get your full contracted Internet speed wirelessly if you do your homework and buy a high quality router.

1. ASUS (RT-AC68A) Wireless-AC1900 Dual-Band Gigabit Router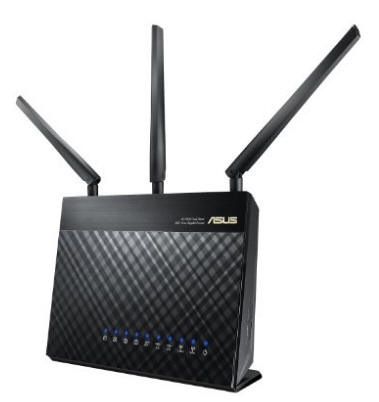 ASUS (RT-AC68A) Wireless-AC1900 Dual-Band Gigabit Router
Price: Typically ~$114


Features

This is a fantastic rock solid wireless router. You can search for professional reviews on smallnetbuilder and other sites if you don't believe me. Despite having been around for several years, its real-world performance especially on the 5Ghz band is unmatched. The one tricky thing with it is that Asus got a little out of hand with releasing different retail-specific variations of it. The one I am currently recommending is the "A" model, as it RT-AC68A. That is a version Amazon sells (A for Amazon model) which is the same as the "P" version (=retail model), and the current "B" version (Best Buy model). These are all "v2" versions of the unit with a faster 1Ghz cpu and a better chipset. You will still find plenty of supply of the older v1, usually labeled R (retail) or U (online), those usually run an 800 MHz Cpu, and still great, just a bit slower on their USB 3 speeds. Lastly, you may come across a "W" version, which means "white". In any event, to avoid confusion, if you follow the links above it will land you on the right model to buy and you won't have to worry about it. One last piece of advice: the factory firmware is often outdated, run through the update process and get your firmware to the most current version. Important side note: if you are an enthusiast and plan to update the firmware to a third party firmware, like Merlin, note that some people have been reporting the "A" and "P" models are locked on the latest firmwares. I don't think this affects 99% of people as the factory Asus firmware is excellent, but I thought I would mention it. If that's a concern, you may want to get an RT-AC68U model.
Key highlights for the RT-AC68A
Up to 1900 Mbps, 802.11AC(1300Mbps over 5G) + 802.11N(600Mbps over 2.4G)
Broadcom TurboQAMTM technology increases wireless-N data rate to600 Mbps for 33% faster performance 1 x Gigabit WAN port, 4 x Gigabit LAN ports, 1 x USB3.0/1 x USB 2.0 support Printer/HDD/(3G/4G dongle) sharing
AiRadar with Beam forming technology to ensure maximum WiFi coverage.
Dual-core processor for fast and responsive performance with Wi-Fi, Ethernet and USB devices.
Now, I know some of you are going to say "but Asus also makes the much newer RT-AC5300 or RT-AC88U or RT-AC87U. I am telling you, don't fall for the marketing, it doesn't matter, those routers are going to be more expensive, as in 2x or more, and will give you no gain in performance in the real-world. In fact, you may take steps back and be slower. If you are on a very tight budget I think you can consider the prior model, the RT-AC66U which is an AC1750 unit and performs excellent. I would say 90% as well as the AC68
Last thing: Amazon reviews. I am a big fan of these reviews, but I have to say in the case of routers it's one area where I proceed with caution. Routers can be complicated to setup and so much depends on your environment and networking setup. So many of the problems people encounter are not the routers fall, and hence my caution. In any event, the routers I recommend all have very good reviews regardless but I thought worth mentioning.


2. NETGEAR Nighthawk AC1900 Dual Band Wi-Fi Gigabit Router (R7000)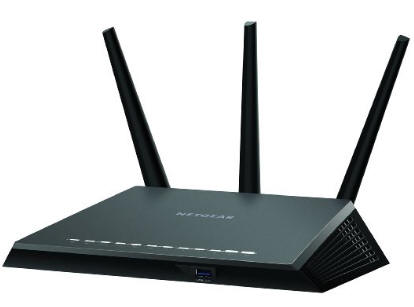 NETGEAR Nighthawk R7000
Price: Typically $175


Features

The is another excellent wifi router that will not disappoint you. It provides solid performance, and the mature firmware has proven more reliable than newer Netgear models. Ever tried to copy a large file over USB2? it's painful. USB 3 rules, but most routers lack the internal horsepower to achieve full USB 3 speeds. The USB 3 speed you get out of the R7000 port is far above average for a router, which makes it quite useful if you hook up a NAS device or a simple hard drive.
Key highlights for the Netgear R7000
1GHz Dual Core Processor
Beamforming+ improves range and performance
High powered amplifiers and antennas to extend your Wi-Fi coverage
Five (5) 10/100/1000 Mbps-(1 WAN amd 4 LAN) Gigabit Ethernet ports
Two (2) USB ports-one (1) USB 3.0 and one (1) USB 2.0 port
The range this router provides is very good, and the set of all around features is solid. It is one of the best units you can get, has won a ton of awards. Between this is the ASUS above, you cant' go wrong, comes down to personal preference. If you are on a tight budget and need an alternative, you can pick up an R6300v2 for just $80. It's a nice little router, smooth and without the giant ugly antennas, and still performs admirably well. Once you upgrade to the most current firmware you will get very fast speeds from it. The R6300v2 range is not as strong, and its speed in my experience tends to max out at around 266 Mbps wireless (which is still VERY FAST, and more than 99% of the broadband home connections need).


3. TP-LINK Archer C7 AC1750 Wireless Dual Band Gigabit Router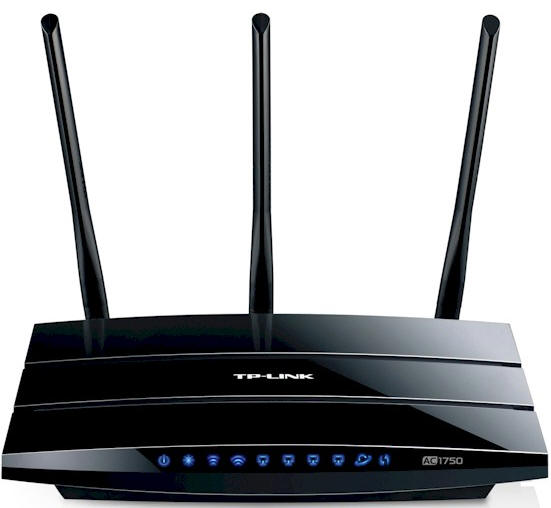 TP-LINK Archer C7 AC1750
Price: Typically $80


Features

This is a very good budget router that packs great range and speed for a low price. Don't fall for the newer models, like the Archer C9 despite all the great reviews on Amazon, you will be disappointed. If you want proof, go over to smallnetbuilder and read up on the C9 AC1900 and you will learn it adds nothing of value and in fact has mediocre performance. If you are going to spend $125-$150 you will be much better off buying the Asus AC1900 recommended above or the Netgear R7000. This TP-Link does not come with USB 3 ports because of its chipset. That means it's not suitable if you need to hook up a drive/NAS and transfer very large files, as real-world USB2 speed tops off around 25-30 Mbytes/sec, and so your 10-Gbyte file is going to take forever to transfer.
Side note about USB performance: a USB 3 port on a fast computer will yield 80-100 Mbytes/sec (provided your hard drive is that fast), and the best USB 3 ports on a consumer-grade router like the Netgear R7000 will get you maybe 50 Mbytes/sec. In any event, if you will be doing lightweight file transfers or won't be using the USB ports much, or just hooking up a printer to share it, the TP-Link is a strong contenter for you.
Key highlights for the Archer C7
1.75Gbps total available bandwith, which includes 450Mbps at 2.4GHz and 1300Mbps at 5GHz
Supports 802.11ac - The next generation of Wi-Fi, and be connected to extra device
Dual USB Ports to share files & media, and printer locally with networked devices or remotely via FTP server
If you can spring another $20, the TP-Link Archer C8 is also excellent, and comes with a USB 3 port, plus it can be had in white which is helpful at times when you don't want the giant black ugly router ruining your decor :)
It is of note that the wired speed of the Archer C7 is very strong, with very high routing throughput through the gigabit ports. However, on the downside, it's wireless 5Ghz range is not strong as the other routers on this list, it has trouble keeping strong connections at medium and long distances. If you are using it at short range or in an apartment, you will be fine. If it's in a big house, I would go with the Netgear or the Asus.
4. NETGEAR Nighthawk X4S - AC2600 (R7800)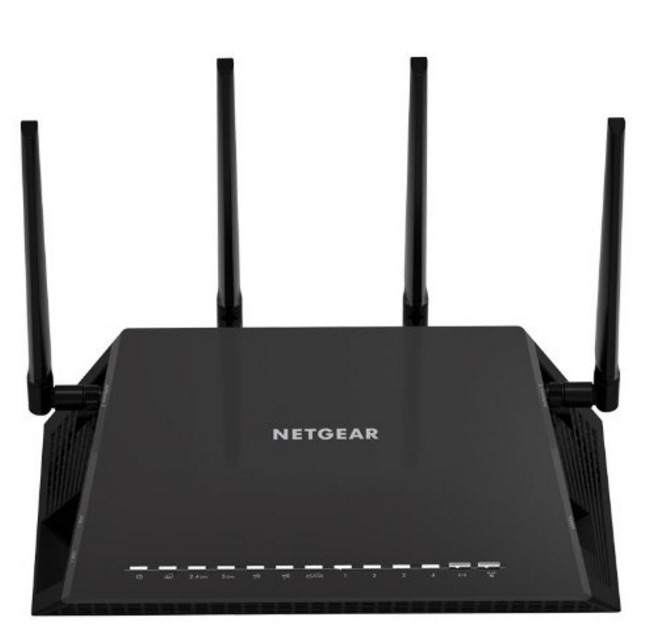 NETGEAR Nighthawk X4S - AC2600 4x4 MU-MIMO Smart WiFi Gigabit Gaming Router (R7800)
Price: Typically $249


Features

If you insist in buying a newer generation router, then I recommend you get the Netgear R7800. This thing is rock solid and will deliver killer performance on your home network. If you check, it has over 10,000 reviews with near 5 starts on Amazon which is a really hard thing to do for most routers. It is also ranked at #1 in the AC2600 category by SmallNetBuilder. The installation is smooth and you will be up in minutes. Signal strenght and performance is excellent, I am easily able to get my full bandwidth wirelessly - 350Mbps - with no issues. The admin console for the router is the standard Netgear console which works OK but looks a little dated by today's standards. That is not a knock on the router though, its powerful 1.7Ghz dual core CPU will take care of all your needs speedily. Also, it comes with USB 3 ports for good speed with attached storage. As a bonues, it supports backing up to a time machine which is really nice




Key highlights for the Netgear R7800
Ranked #1 in AC2600 performance by Small Net Builder
Multi-user MIMO technology for more throughput; Top spot in MU-MIMO router performance comparison by Small Net Builder
Powerful 1.7GHz dual core processor and dynamic QoS for smooth jitter-free gaming
Network storage-ready with superfast twin USB 3.0 and eSATA; Use ReadyCLOUD to access the storage anytime from anywhere
Gigabit Ethernet ports for fast wired performance
Netgear currently puts out 2 other models marketed as higher end, but I would not recommend either of them - the R8000 and R8500. I feel you will not really see any performance difference and cost is significantly higher, does not make sense.
5. ASUS RT-AC5300 Wireless-AC5300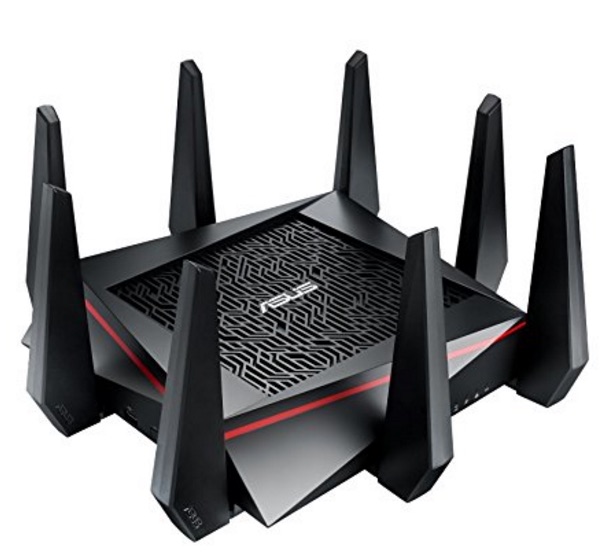 ASUS RT-AC5300 Wireless AC5300 Tri-Band Gigabit Router
Price: Typically $375


Features

This is a tri-band unit which drives a very high throughput, it's their current top of the line unit. I'd say my recommendation is that you buy this only if you are planning on setting up a router ot router network solution, or you have a lot of devices - as in 30 or 40 - connecting to our home netwok, otherwise given the price it's just not worth it.




And this is it for wifi router reviews. Do yourself a favor and buy one of these 5 routers, it will keep you away from the wifi blues.