SUMMARY
This is a review for the Canon PowerShot S95 digital camera. I have ownen many, many digital cameras in my life, and this one is a great compact camera. My first digital camera in the mid 90s was a Kodak with a 640x480 resolution. I took a ton of pictures and enjoyed it very much. After that I owned many different models before I decided I appreciate most the camera portability. I want to be able to put it in my pocket and forget about in - no giant and heavy DSLRs for me. I mean, they have a place of course, and provide the best quality ultimately, but in general they are hassle to carry around which results in less use.

The great thing about the S95 is its fantastic low-light capabilities. It can take excellent pictures, rivaling many DSRLs, with very little light. That comes in handy in all sorts of situations, from dinners with friends to weddings. It's a little bigger that the super small compacts, but it still fits in your pocket, and it's not heavy. It comes in black and looks cool, feels sturdy and it's well built. It's a little pricey, but you do get the best in its class. The only other camera with similar capabilities and picture quality is the Panasonic Lumix LX5. A very good camera as well, though I think the S95 beats it by a hair.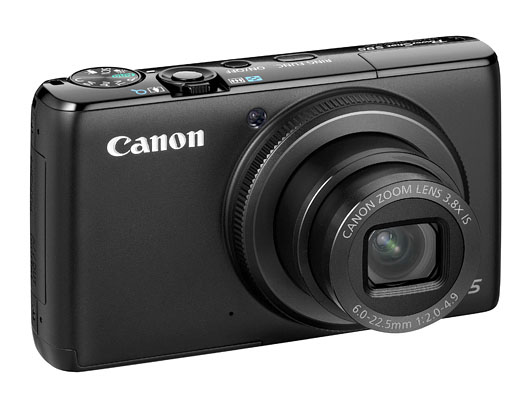 Canon PowerShot S95 10 MP Digital Camera with 3.8x Wide Angle Optical Image Stabilized Zoom and 3.0-Inch inch LCD
REVIEW
If you're looking for a pocketable camera that has reasonably high quality images, lets you control aperture, speed and focus and shoot in RAW format, this is it. I bought mine as an upgrade from a previous small but versatile camera, a Canon Powershot S70.
The Powershot S95 was introduced in August 2010 as a slight upgrade to the S90, which was widely praised for its image quality and excellent interface but criticized for being hard to hold ("like a bar of soap in the shower") and for having a control dial that turned too easily. The S95 fixes both problems and adds a couple of other features in a package that fits in the pocket of your jeans (if they're not super tight). The case is metal, and although there are no finger grips on the body, it's not slippery at all. It feels like it's covered with super-fine sandpaper (like 1000 or 1500 grit, for those you who know what that feels like).
The second major complaint about the S-90 was that the function selection ring on the rear moved too easily. The ring on the S-95 has a slight click when you move it, and it doesn't move unless you want it to.
There are a couple of other cameras of this type, including the Panasonic LX-3 and LX-5 and the Samsung TL500. They all have let you control camera functions, and like the S95 they have 10 MP sensors that are almost twice as large as a typical pocket camera, so the pixels on the sensor are larger. That lets them gather light more efficiently, which reduces digital "noise" when you shoot in dim light. Image quality is noticeably better than photos from typical pocket cameras. You can make an 8 x 10 or perhaps 11x14 enlargement, although a digital SLR will be significantly better for larger prints. They also have f/2.0 lenses at their widest angle, although the aperture closes down as you zoom in.
The Canon has two advantages over the Panasonic LX-3 & LX-5. First, you really can put it in your pocket or in a belt case no bigger than the one you use for a mobile phone. Second, the interface is a brilliant re-thinking of how a very small camera with a full set of controls should work. There's not much room for buttons on the small surface, but you don't have to get into a multi-level menu on the LCD, and yet changing settings is fast and intuitive. For example, there's a ring around the lens that you can grip easily to control zoom, or, shutter speed, or aperture, change ISO, or manually focus. You select what you want it to do by pressing a button on the top, and when you look at the LCD screen you can see what it's programmed for. There's a selection wheel on the back for other functions, and when you move it, a clear set of choices appears on the screen. The selections are context-appropriate, so they change depending on whether you've set the camera for aperture control, "Program" control, etc. v The two Panasonics have the same sensor as their Canon equivalents, but they offer a slightly wider lens (24mm vs. 28 for the S95). The LX-3 has a much shorter telephoto - only 60 mm. The LX-5, which was introduced a couple of weeks before the S95, has a 90mm telephoto, and you can buy an add-on optical viewfinder. It also has a flash shoe in addition to the pop-up flash, although you can buy a dedicated add-on flash for the S-95 to supplement its pop-up flash The LX-5 is about 25% more expensive than the Canon S95 (and 60% more with the optional viewfinder) and while it would fit in a coat pocket, you can't stuff it into a trouser pocket.
If you want a truly pocketable camera that gives you good image quality and full control over your photography, the S95 is an excellent choice.
What's in the Box
PowerShot S95 Camera body
Lithium-ion Battery Pack NB-6L
Battery Charger CB-2LY
Wrist Strap WS-DC9
AV Cable AVC-DC400ST
USB Interface Cable IFC-400PCU
Digital Camera Solution CD-ROM

Product Description
Canon's 4343B001 PowerShot S95 10MP Compact Digital Camera is ultra-slim, ultra-intelligent and loaded with all a serious photographer's must-haves, including a bright f/2.0 Wide-Angle Lens and professional-style control ring for intuitive manual control. Canon's HS System is on board for spectacular performance and image quality in low light. And, new for a compact, the S95 incorporates Canon's Hybrid IS for blur-free shooting even close-up. You'll shoot stunning 720p HD video with stereo sound, then watch it immediately on your HDTV with the simple HDMI connection. If photography's your passion, now is the perfect time to step up to PowerShot S95